I have suspended Tuesday's humor post today to participate in our rockin' great blogiversary link-up. For all of the details about linking up, writing prompts and how you can win some sweet prizes, read this. The linkup is open all week, and we'd love to read more about all of you.
And now… What I'll be writing about on my 10th blogiversary:
I have no idea.
I don't mean that as a cop out or a casual shoulder shrug.
I love that. It makes me tingle and smile and feel excited.
A year ago, It Builds Character didn't exist. I was at home with two young kids, feeling a bit isolated and trapped despite an amazing local moms' group and my kids being pretty damn awesome.
I needed something. I missed writing. I missed my brain. I wanted a new community.
I wanted to be able to write my own truths, good or bad.
I was lucky enough to have a handful of friends who were game for a little bit of adventure. I joked, and still do, that it was my way of "playing work."
I never expected to have grown to the readership that we have.
I never dreamed I'd travel across the country to meet other amazing bloggers who have become friends, regardless of physical distance. Or that I'd be honored to provide a platform for pieces by such wonderful writers, both as regular contributors and guests at IBC.
I certainly didn't think I'd start to get the shakes during weeks when life interferes with my time to write.
This year has truly been full of surprises. We have learned a lot as we've grown and we plan to continue to change as we learn even more. (Someday, I may even understand Google+.)
The point is this – I have found community here at IBC, through social media, through collaborations with Just. Be. Enough. and ChicagoNow. So on my tenth blogiversary, will I still be writing about parenting? Probably to some degree.
But I'm not limiting us there. When I look at the growth in our site, our writing and the potential of the IBC team, we have plenty to do in the next nine years, both here and beyond. As Mama Sully likes to say, I think it will be full of Awesome.
Now it's your turn to link up! Forget the writing prompts? Here are your choices – Just pick one (or 5) and grab the badge!
What to write?Here are your prompts to choose from:
5 (or more!) Ways the Blogging Community Improves Life
5 (or more!) Blogs that have Influenced my journey (and Why)
5 (or more!) Reasons this year has been "just the beginning"
The Darker Side of Blogging – 5 (or more!) things to Avoid
5 Ways to Technically Improve your blog
What I thought I'd Be Writing About When I Started
What I'll Be Writing About on My 10th Blogiversary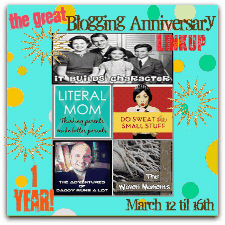 And hey – don't forget to check out my partners in the Great Blogging Anniversary Linkup (and the other places you can link up). When you link up, your post will appear on all 5 blogs. They're a great group to party with:
Literal Mom – blog, Twitter, Facebook page
The Woven Moments – blog, Twitter, Facebook page
The Adventures of Daddy Runs A lot – blog, Twitter, Facebook page